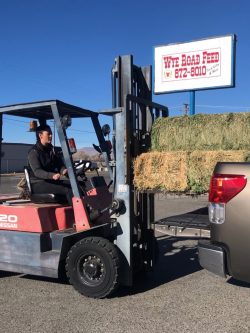 If you enjoy tending a garden, you know how important it is having the right tools and gardening supplies in Bishop, Inyo County, Wilkerson, Poleta, and West Bishop, CA. So do we. At Wye Road Feed and Supply, you'll find everything you need to sow your seeds and tend to your blooms! We maintain an excellent selection of quality products at affordable prices. Come to us for gardening supplies that include:
Topsoil: Make sure your garden's bed is rich with nutrients and ready to foster healthy plant growth! We stock nutrient-rich topsoil at affordable prices, along with other essential bed materials, such as peat and mulch.
Gardening Tools: From shovels and rakes to hoes and trowels, we've got all the gardening tools in Inyo County, CA you need to manage your garden the right way. Our selection of gardening tools is unbeatable and you're sure to find options that are right for your budget.
Seeds: Thinking about growing blooms this year? Want annuals or perennials for your garden? Planting bushes or shrubbery? We have the seeds you need to create the perfect garden—one that's full of life and color, that'll lend appeal to your property and enjoyment to your days.
Accessories: Come to us for just about anything else you need to tend your garden. From nutrient boosters to pots, gloves to wire and more, we've got it all. We can help you brace those little saplings, keep rabbits out of your garden or add a little boost to your slowly-growing bed of plants.
No matter how big your garden is or what you're growing, Wye Road Feed and Supply has everything you need to tend it right. Stop in today to browse our complete selection of gardening supplies or contact us at 760-872-8010 for more information about anything you might be looking for. Don't forget to ask about delivery on larger orders of gardening tools, pet feed, livestock supplies, and more!