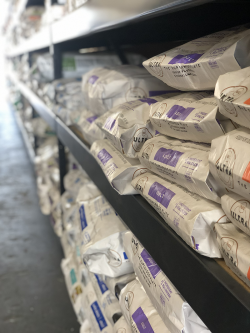 We're responsible for keeping our pets happy and healthy. That means giving them nourishing food, the right medication and proper accessories. You'll find all this and more at Wye Road Feed and Supply. We're the local area destination for accessories and pet food in Bishop, Inyo County, Wilkerson, Poleta, and West Bishop, CA, regardless of what kind of pet you're caring for. Come to us for:
Pet food: We carry food for dogs, cats and fish, with tons of variety depending on your animal's specific needs. Shop for small- and large-breed dogs, puppies and kittens or senior cats and dogs, fish, and small animals such as guinea pigs, hamsters, and rabbits food of all types. We even have brands for animals with specialty diets. We'll help you keep your pet well-fed.
Pet supplies: Our selection of pet supplies in Inyo County, CA includes collars and leashes, toys, treats and more. Whatever you need to keep your pet happy, we've got it! We can also help you find what you need for various pet-specific products. We also carry grooming products for all your pet needs!
Vet supplies: Depending on your pet's age or health condition, it may require any number of medications or supplements. Whatever they need to be happy and healthy, stop in and find it here.
Our knowledgeable staff is always happy to answer your questions and can provide you with recommendations for different brands and products based on your pet's needs.
Quality Name Brands
Our commitment to your pets extends to the brands we carry. Whether you're picking up a bag of cat food or a new leash for your dog, select from proven brand names at our store:
32 Degrees
Barkworthies
CANIDAE
Nutro
Orijen
Redbarn
Ruffwear
Taste of the Wild
At Wye Road Feed and Supply, we know you put your pet's health and happiness first. We do the same. Come to us for quality pet food and essential pet supplies, livestock feed, gardening supplies, and more at great prices. Stop in today or contact us at 760-872-8010 to see if we have what you're looking for.